So I've been meaning to make a wish list of things for our home. This seams like it's a good place to start!
For the living room/dining room areas:
I would like one more of these for our table, since we already have the one. For the other two table chairs, I would like two of either one of these styles: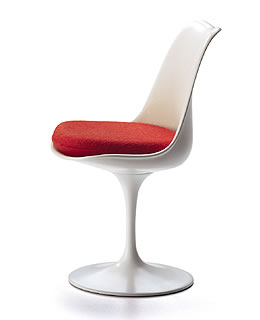 I also want some sort of amazing hanging light for above the conversation pit. I would LOVE an artichoke lamp, or a Nelson cigar lamp, but there are so many lamps I would love there, I won't be too picky!! I'll take the first one I love!
Also, since I already have a tulip dining table and a tulip side table, I would
really
like a Laurel tulip lamp. Or really anything with a tulip base.
For the bedroom:
Some sort of matching hanging shade lamps. I would like something that will hang above the nightstands without being too intrusive.
Speaking of which, I would like a matching set of nightstands! I
love
the one I have now, but I don't know the maker. I'll be getting around to taking a picture of it soon. I would LOVE these:
I would also like a headboard. I was thinking of less mid century and more of a modern padded headboard, just so it'd be more comfortable leaning up against, but the mid century ones look sooooo amazing!!!!!!!!!!!
We've also been looking for something to put at the foot of the bed and I think we've come to an agreement on a slat bench.
That's all I can really think of at the moment, I'll probably post more as I can think of them!